Toolgun
From GMod Wiki
| | |
| --- | --- |
| Type: | Construction tool |
| Primary fire: | Selected toolmode's left click action. |
| Secondary fire: | Selected toolmode's right click action. |
| Notes: | Used to manipulate your surroundings and any prop available to you. |
Brief
The Tool Gun is one of your primary tools for building in Garry's Mod Sandbox. It comes with a multitude of toolmodes you can select in tool menu, on the right side of the screen when you bring up the spawn menu (Default key is Q).
Most tools provide instructions on the top left-corner of your screen once you've selected one and let go of the spawn menu.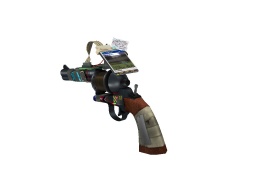 Instructions
Select a toolmode in the tools menu.
Most functions can be performed by either left or right clicking.
Some toolmodes use more key-binds such as reload (default: R).
Most toolmodes have options and settings you can change in their context menu.
You can bring up the context menu (Default key is C) at any time when building to change settings on the fly.
Variables
Each toolmode can be configured individually in its context menu.
Useful hints
Several addons exist that will extend the capabilities of this tool by adding new toolmodes. Many can be found here.